There is so much misinformation about the legality of online poker out there that I find it to be pathetic. I've shook my head so many times when reading this stuff that my neck becomes sore. Very few people know any better though and just take it all in, and when the opinions diverge as they often do, they become even more confused.
Our Most Trusted Poker Sites via PokerLaws.org
Below is our list of our most trusted online poker websites players can play at, both for USA players and those playing poker from abroad and around the world. If you're looking for more information on local poker laws then please feel free to keep navigating the site as we've made it very user-friendly for our users.
We are also in the process of building up our simplified poker strategy section on the site, so keep checking back in for more information on how to increase your poker IQ and betting acumen when you're at the felt (online or live!). This will be something that will continually be worked on as we grow our website and user base, so hopefully you'll bookmark PokerLaws.org for future reading.
BetOnline Poker
Bonus Offer:
100% up to $1000
Available Countries
Accepts US players
More Info
Available Games
Poker
Blackjack
Roulette
Live Dealer
Baccarat
Features
Great gaming library
Numerous tournaments
Hefty welcome bonus
Additional bonuses for crypto users
Ignition Poker
Bonus Offer:
150% up to $1500
Available Countries
Accepts US players
More Info
Available Games
Poker
Blackjack
Roulette
Live Dealer
Baccarat
Features
A lucrative welcome bonus
Plenty of regular promotions
A great VIP scheme
Accepts cryptocurrencies
Everygame Poker
Bonus Offer:
200% up to $1000
Available Countries
Accepts US players
More Info
Available Games
Poker
Blackjack
Roulette
Live Dealer
Baccarat
Features
Host of cash games and tournaments
Great welcome bonus
Game variety
Good loyalty program
8

reviews found based on your search.
Clear all filters
YOUR Legal Poker Resource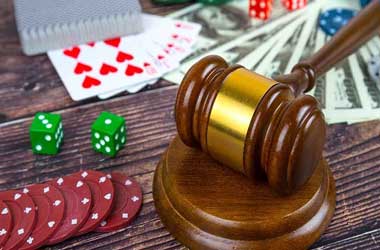 While the media can be at least fairly reliable to provide useful and factual information, this isn't the case at all when it comes to poker and the law. I've yet to read a single article in fact that hasn't been off base, usually way off base in fact.
When I read people making comments such as the UIGEA outlawing online poker in the United States, well that's so ridiculous from a legal standpoint it isn't even funny.
What about the government? Can they be relied on to provide the accurate information on whether we can or cannot play online poker legally? The truth is, apart from whatever laws may or may not apply, they have an agenda here, and it is not to promote unregulated online poker. They will go to great lengths in fact, and do so quite successfully, to promote rather than remove the confusion.
Then we have all the shills out there who will just tell you that everything is perfectly legal. Oddly enough, they come closer to the truth overall than a lot of the other people, but they generally know very little about the topic and are just spouting off a lot of information and have no expertise on the topic whatsoever, not the kind of thing that anyone should ever find to be trustworthy, because it simply isn't.
In fact, some are just spouting off a lot of information and have no expertise on the topic whatsoever, not the kind of thing that anyone should ever find to be trustworthy, because it simply isn't. Websites like ours – as well as other legitimate portals like PokerAlliance, OnlinePokerReport or PokerScout – offer the updated news on state-regulated poker action in jurisdictions such as Nevada, New Jersey, Delaware and Pennsylvania (West Virginia just got added to the mix too). You can find great info on iGaming sites in those regions or even check out an extensive list of the best US online poker sites (that are offshore-regulated) on our site as well.
Even legal opinions from experts tend to be off the mark at least to some degree. You wouldn't think that this would be the case but if you know how members of the legal profession think you would understand better how this can happen. The legal profession is by nature very self protective, which causes their advice to be extraordinarily conservative generally.
This might be fine if you are involved in a legal proceeding but when it comes to providing practical advice on the potential for legal consequences when playing poker online, reality becomes most often left behind at least somewhat.
So that's where we come in, to provide you with what you actually need to know in order to decide whether you want to play poker online, regardless of whether you are in the United States or live in another country. Other sites of mine also delve into the legality of online poker, including 4Flush and a host of others, the former being one of the oldest and most reputable online gambling sites still in existence today.
What Does "Legal To Play Poker Online" Even Really Mean?
Believe it or not, one of the big things that I find people getting confused about here is what it even means when we say that it is legal or not to do something. People in particular tend to think that something being legal means that it is officially sanctioned. For instance with regulated gambling it would be, like for instance with state run lotteries. They are telling you that it's OK to play the lottery in these regions, and in fact even have a stake in the business.
In this case it would be legal to play, but this is not what being legal even means. There are lots of non-sanctioned activities that are still legal. Almost all of our day to day actions are not officially sanctioned in fact.
Some actions are prohibited though, meaning that there are laws against it. So these acts would be considered illegal. Crimes would be an example, although certain forms of non criminal activity would be included here, as would be anything specifically prohibited by law or regulation.
So what does something being legal mean then? It means that it is otherwise states as not specifically illegal. However, as simple and as obvious as this may be, there are many who think that poker can't be legal because there are not laws permitting it.
This is absolutely foolish though. There's no laws telling us that we can go to the bathroom either, but now laws against it, other than perhaps our not being able to do it in public.
Even more importantly, there is a practical side to this. What if there were a law on the books but it wasn't enforced? Would you care? Well you might care a little bit about it, but if you are looking at things from a practical standpoint, as you should, then you probably wouldn't, nor should you.
Either way, our resource site can guide you where you need to go – and if that means trying to find a specific poker site in Asia to play on or even narrowing down which the best NJ online casinos are in that particular state – and get you there with accurate and updated information at all times!
Why PokerLaws.org?
While we aren't really permitted to dispense specific legal advice on this site, what we can do for you is to share our knowledge of the subject with you, so that you will truly be in a much better position to decide for yourself the extent of your willingness to play online poker depending on your own individual circumstances and location.
Aside from that, if you are curious as to what has been going on in the world of poker and the law, and where it is headed, you will find our site very enjoyable as well. We have a passion for the subject, and a special passion in fact for debunking a lot of the myths out there on it.
It is truly a shame that so many people are ill informed about the legalities of online poker, but once you have the opportunity to read further, you will no longer be one of them. Along with our own site, we occasionally list other portals that also maintain a huge list of LEGIT casinos, live dealer websites and an extensive list of legal USA betting sites as well. Always check our site for more updates!
Latest News
Recent Updates at PokerLaws.org
March 2019 Updates:
January 2019 Updates (IT'S BEEN AWHILE, SORRY!):
May 2018 Updates:
February 2018 Updates:
October 2017 Updates:
September 2017 Updates:
August 2017 Updates:
May 2017 Updates:
January 2017 Updates:
November 2016 Updates:
August 2016 Updates:
June 2016 Updates: