BetOnline Poker
Bonus Offer:
100% up to $1000
Available Countries
Accepts US players
More Info
Available Games
Poker
Blackjack
Roulette
Live Dealer
Baccarat
Features
Great gaming library
Numerous tournaments
Hefty welcome bonus
Additional bonuses for crypto users
8

reviews found based on your search.
Clear all filters
The worldwide landscape of sports betting has always changed at a rapid pace and this has never been more true than in the past decade. Between the advent of online sports betting and a growth in demand from bettors, competition for a piece of the sports betting market has increased dramatically.
The differences between betting on sports in the United States and the rest of the world are significant. Whether in terms of legality or accessibility, the US betting market is much more convoluted than in the United Kingdom or almost anywhere else in the world. With that said, times are changing, and it is very likely that US sports bettors will have more options than ever in the coming years.
United States Sports Betting
In 1991, all US states had an opportunity to meet federal requirements in order to be eligible for sports betting within state lines. Surprisingly, only Delaware, Montana, Nevada and Oregon made the effort to qualify, and since 1992 have been the only states to offer legal sports betting. While the actual types of bets offered in these states vary (for example, Delaware only offers parlay wagering), they remain the only states that technically offer any form of regulated sports betting in the US.
It goes without saying that Nevada, and more specifically Las Vegas, is the leader when it comes to sports betting. Players have been able to bet at sportsbooks across NV for decades and now those books are more accessible than ever. For obvious reasons, Nevada wants this to remain the same, while other states in the US, most notably New Jersey, are fighting for the right to offer sports betting in their casinos as well.
The United States Supreme Court is expected to decide on the future of nationwide sports betting in 2018, but even then the future of US sports betting will remain unclear due to individual state legislation. The only certainty for US bettors is that progress is being made and it is only a matter of time before everyone can wager in a regulated environment.
Betting Apps in US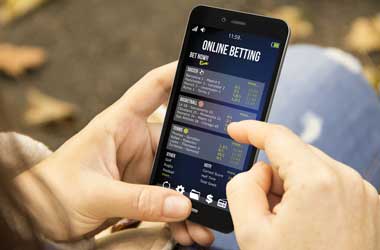 Since Nevada is allowed to offer sports wagering anywhere within state lines, they have begun to take advantage of their extended and unparalleled reach. Currently, anyone that is within NV state lines can place 100% legal sports bets right from their phones using betting apps. You do not even need to be a resident in order to place bets; the only requirement is that you are physically located in Nevada when a wager is placed.
The sports betting apps are run by a number of different well known bookmakers, like William Hill and Cantor Gaming. In addition, almost every major casino brand in the state, like MGM, Caesars, and Stations, also offer their own sports betting apps. Each app operates independently of the other brands.
These apps have helped to pave the way for what most expect the future of sports betting to look like. Placing a bet on your phone is easy and convenient, making it an obvious attraction to both casual and serious sports bettors alike. For the most part, these apps have operated smoothly since inception, and the measures in place to ensure that bettors only wager within NV state lines have worked as planned.
Sports Betting in UK and Around the World
There are few developed countries where sports betting is more confusing and complex than the United States (though Canada comes close). The UK may be the most well known online betting destination in the world. Whether you are playing casino games, poker, or betting on sports, the UK makes gambling as accessible as possible.
In London, for example, sports bettors can walk down the street to a local Bet365, PaddyPower, or William Hill "betting shop" in order to place wagers, just in the same way as you might visit your local grocery store. Imagine this happening in the United States! Beyond visiting these micro sportsbooks, players can also bet sports online, and have been able to do so for decades.
The UK betting market helped paved the way for the current sports betting apps that now exist in Las Vegas, and UK books are a strong barometer when it comes to future expectations in the US. If you visit London today, you may very well see what the US will look like in the coming years. While it is unlikely that New York City will ever resemble London, it would not be the most far fetched scenario in the world.
In Europe, most countries have their own rules and regulations regarding gambling and sports betting in particular. Generally speaking, most EU countries allow their residents to bet on sports with minimal restrictions. This is why you will see betting sites plastered all over major soccer teams throughout Europe. Without the interest in betting on events, it is a safe assumption that soccer attendance and interest would reduce dramatically in Europe.
The primary difference between how sports betting functions in the US vs. the rest of the world is found in legal regulation. While the majority of US sports bettors need to use a local bookie or an offshore online bookmaker in order to wager on sports, UK bettors can wager with publicly traded companies that must adhere to strict regulations. This makes the entire process much more transparent, and in turn safer, for both the operators and the players.
The Future of Worldwide Sports Betting
It could be argued that the future of sports betting is already underway. William Hill, one of the largest casino and bookmaker operations in the UK and Europe, is already one of the primary providers for sports betting in Las Vegas. Walk into casinos in Downtown Las Vegas or smaller casinos throughout the state and there is a good chance that the sportsbook is operated by William Hill.
If and when the United States definitively allows sports betting nationwide, the obvious expectation is for every casino to immediately install a sportsbook. Casinos in Maryland, Florida, California, and every other state will rush for a piece of the very large US betting market. Now, the time frame for this scenario to become reality remains to be seen.
It is possible that bettors in the US will be able to bet sports anywhere, at any time, by 2020, or it may not be possible even in 2025. Since governments tend to move slowly, and state level laws will need to be created, the actual timeline for regulated US sports betting is unknown. The only certainty is that sports betting is in large demand in the US, and one year or another, the dream of regulated wagering will come true.
Editors Note: this article was posted in early 2018 and will be updated if sports betting is legalized on a more national level in the United States or otherwise altered if any other countries around the globe amend their sports betting regulations.
About the Author