BetOnline Poker
Bonus Offer:
100% up to $1000
Available Countries
Accepts US players
More Info
Available Games
Poker
Blackjack
Roulette
Live Dealer
Baccarat
Features
Great gaming library
Numerous tournaments
Hefty welcome bonus
Additional bonuses for crypto users
8

reviews found based on your search.
Clear all filters
If you're interested in playing poker in Arkansas, you'll need to know about the state's gambling laws. This article will discuss the basics of Arkansas Poker Laws, including what is legal and what is not.
We will also provide a brief overview of Arkansas' history with gambling and poker. So, if you're ready to learn more, keep reading!
Where to play online poker in Arkansas
Looking to play poker in Arkansas? Check out our list of the best Arkansas poker sites!
BetOnline Poker
Bonus Offer:
100% up to $1000
Available Countries
Accepts US players
More Info
Available Games
Poker
Blackjack
Roulette
Live Dealer
Baccarat
Features
Great gaming library
Numerous tournaments
Hefty welcome bonus
Additional bonuses for crypto users
Ignition Poker
Bonus Offer:
150% up to $1500
Available Countries
Accepts US players
More Info
Available Games
Poker
Blackjack
Roulette
Live Dealer
Baccarat
Features
A lucrative welcome bonus
Plenty of regular promotions
A great VIP scheme
Accepts cryptocurrencies
Everygame Poker
Bonus Offer:
200% up to $1000
Available Countries
Accepts US players
More Info
Available Games
Poker
Blackjack
Roulette
Live Dealer
Baccarat
Features
Host of cash games and tournaments
Great welcome bonus
Game variety
Good loyalty program
8

reviews found based on your search.
Clear all filters
Is Online Gambling Illegal In Arkansas?
Yes, real-money online casinos and online sports betting are still strictly off limits for now in Arkansas. However, legal and social casinos such as WinStar, LuckyLand, and Chumba are available in Arkansas because they are free for players to use; these technically aren't considered gambling locations.
When a player joins a social casino, they are automatically given a certain number of tokens and "sweeps coins" to use in table games and online slot machines, just like in land-based casinos.
They can even win prizes or real cash by playing games with sweeps coins. So consider social casinos the superior, legal online option for now, and perhaps Arkansas law will change again to expand real-money online casino offerings in the future.
Gambling laws in Arkansas are pretty straightforward – real-money online casinos and sports betting are not currently allowed. Plus, at social casinos, players have the chance to win prizes or even real cash!
So if you're looking for an online gambling option in Arkansas, social casinos are the way to go. Who knows, maybe in the future, Arkansas law will change to allow for real-money online casinos. But for now, social casinos are the best option for legal online gambling in Arkansas.
Arkansas Poker and Gambling Laws
Arkansas gambling and poker laws are relatively permissive, and there are several ways to gamble within the state law. For example, casino gambling is allowed on Native American land, and there are also several racetracks and other venues where betting any money is permitted.
Poker is also popular in Arkansas, and there are several different casinos and card rooms where games can be found. However, it is essential to note that online gambling is not currently legal in Arkansas. So if you're looking to gamble online, you'll need to do so through one of the many legal offshore sites.
But overall, Arkansas offers many options for those looking to gamble. So whether you're into casino games, poker, or horse racing, you'll find what you're looking for in Arkansas.
A Detailed Look at Arkansas's Gambling Laws
Arkansas' gambling laws are already pretty broad (2010 Arkansas Code 5-66-101, 5-66-112, 5-66-113) but to further bolster their effect, the legislature starts the section in gambling laws with this directive:
"(a) In their construction of the statutes prohibiting gaming, the judges of the several courts in this state shall construe the statutes liberally, with a view of preventing persons from evading the penalty of the law by changing of the name or the invention of new names or devices that now are, or may hereafter be, brought into practice, in any and in all kinds of gaming, and all general terms of descriptions shall be so construed as to have effect, and include all such games and devices as are not specially named.
(b) In all cases where construction is necessary, the construction shall be in favor of the prohibition and against the offender."
So in some cases the applicability of certain sections in gambling law may be unclear, particularly when it comes to how they would be interpreted in cases where the law may not have contemplated certain things, such as internet wagering for example, and this directs judges to take the broadest interpretation of the law as opposed to a more narrow one that might hold that since a certain form of gambling is distinctive from what is described as being prohibited, it may escape the grasp of the law.
So now let's look at what the law does say about gambling in Arkansas. The law in this state, at least in terms of gambling, does not rely on definitions such as a lot of states do, and that's because the prohibitions here are broad enough to not really require them.
As far as poker playing goes, the pertinent section in the Arkansas criminal code reads as follows:
"If a person bets any money or any valuable thing on any game of brag, bluff, poker, seven-up, three-up, twenty-one, vingt-et-un, thirteen cards, the odd trick, forty-five, whist, or at any other game of cards known by any name now known to the law or with any other or new name or without any name, upon conviction he or she is guilty of a violation and shall be fined in any sum not less than ten dollars ($10.00) nor more than twenty-five dollars ($25)."
Short History of Gambling in Arkansas
The history of gambling in Arkansas is a short but eventful one. The state has always been fond of horse racing, but until recently, there wasn't much in the way of other gambling options. However, all that changed in 2005 when the state made a significant push to bring more gambling options to its residents.
Today, you can find everything from sports betting and casino gambling to poker and lottery games. While many of these options are not yet available online, Arkansas has shown that it is open to making significant changes in gambling. So here are some of the most critical dates in Arkansas gambling history.
1904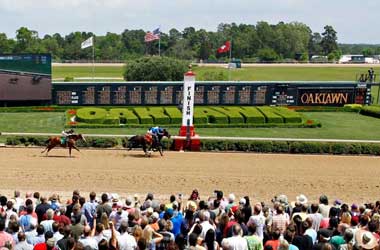 Gambling has been a part of Arkansas for over a century, starting with the opening of Oaklawn Park Race Track in 1904. The track featured six races per day and quickly became popular with Arkansans. However, betting on racing was a bit of a gray area for Arkansas at the time.
1929
Oaklawn shuttered and reopened several times until 1929, when a razor-thin majority of lawmakers finally legalized pari-mutuel wagering on racing.
1936
The first Arkansas Derby took place and quickly became one of the country's richest and most prestigious horse races.
2008
Gambling has been a part of Arkansas' history for many years. The state has had several lottery initiatives over the years, but it wasn't until 2008 that one finally passed. Lt. Gov. Bill Halter supported the Arkansas Scholarship Lottery, which provided funding for scholarships for Arkansans.
The amendment passed with 62% of the vote and has reportedly contributed more than $1 billion to education in the state. Today, gambling in Arkansas is still strong, with several casinos and racetracks. So whether you're looking to hit the jackpot or have some fun, there are plenty of opportunities in Arkansas
2009
The first significant gambling expansion came from a state lottery, which voters approved in 2009.
2018
This was followed by the approval of casino gambling in 2018, which resulted in the development two casinos in the state. These developments have led to increased tourism and tax revenue for the state and created new jobs and economic opportunities for Arkansans.
Gambling expansion is expected to continue in the state in the coming years, with other casinos and sports betting operations likely to be approved by voters. So whether you're a long-time resident or a newcomer to Arkansas, it's an exciting time to be here as the state redefines its relationship with gambling.
The Future of Gambling in Arkansas
The future of gambling in the United States, especially in Arkansas, looks bright. The state legislature recently approved a bill that would allow for the construction of four full-service casinos in the state.
This is a significant victory for casino operators and gaming proponents, who have long argued that Arkansas is missing out on millions of dollars in potential revenue by not having casinos.
The new law will also create thousands of new jobs, both at the casinos and in the supporting businesses that will spring up around them.
In addition, the tax revenue generated by the casinos will provide a much-needed boost to the state's economy. With all of these positive impacts, there's no wonder there is overwhelming support for casino gambling in Arkansas.
Final Thoughts
While Arkansas may not be the first state that comes to mind when you think of gambling, it has a long history of gaming laws. Live poker is legal in Arkansas as long as it meets specific requirements. For example, games must take place in a private residence and can only involve up to 10 poker players.
In addition, there can be no entry fee, and all winnings must be paid out in cash. While these laws may seem restrictive, they provide an excellent opportunity for poker enthusiasts to enjoy online poker in Arkansas without breaking the law. So, if you're looking for a friendly game of poker, Arkansas is the place to be.
FAQ
Are Online Casinos Legal in Arkansas?
Yes, but you'll need to play at offshore online casinos. Since the market is unregulated, your top concern will be locating sites that pay out quickly and regularly. Please read our reviews of the best online casinos in Arkansas to help you choose.
Can I Bet on Sports Online in Arkansas?
No, at the present moment, actual sportsbooks are not accessible at existing casino sites. However, Arkansas residents can bet on sports through daily fantasy sites like DraftKings and FanDuel.
Will Online Gambling in Arkansas Be Safe Once Legal?
Yes, Arkansas gambling sites will have to meet strict requirements to obtain a license. This includes ensuring that all games are fair and that player funds are safe and secure. In addition, Arkansas gambling sites will be subject to regular audits by the state gaming commission.
About the Author