BetOnline Poker
Bonus Offer:
100% up to $1000
Available Countries
Accepts US players
More Info
Available Games
Poker
Blackjack
Roulette
Live Dealer
Baccarat
Features
Great gaming library
Numerous tournaments
Hefty welcome bonus
Additional bonuses for crypto users
8

reviews found based on your search.
Clear all filters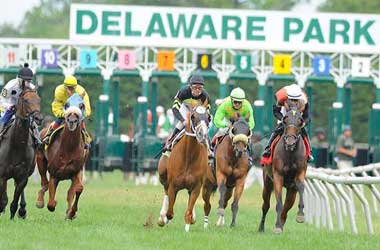 Delaware has a large Park and is one of the three providers of online poker in the State of Delaware these days, along with Dover Downs and Harrington Raceway. All three started out as horse racing venues, and horse racing still plays a central role in Delaware Park's offering, although they have expanded far beyond this and it's much more like a casino now than a race track, with slot machines, table games, and sports betting.
In addition to the live poker they offer, Delaware Park is also the largest provider of online poker in Delaware, with about a 70% market share of the online poker traffic in the state. Delaware Park is the big name in gambling in Delaware and they have been able to leverage that into the online poker market as well.
In addition to offering online players access to licensed and regulated online poker, they also offer online casino games as well.
Delaware online poker used to be the joke of the online poker world at one time, and the state simply did not have the traffic to get online poker off the ground on their own, resulting in a pitifully small market, which at times averaged less than one full table worth of cash game players in the entire state.
So this is the big problem that you can run into with online poker start up operations, if no one plays there then no one wants to, and you need not only the population base but enough momentum to get it off the ground and growing.
Delaware and Nevada Join Forces
Nevada was looking to grow their online poker market, and had passed a bill allowing for their poker networks to accept play from other states as well, and Delaware became a willing partner in this deal.
Nevada was hungry for more traffic, Delaware was hungry for some traffic at all, and the governors of the two states got together and signed an interstate pact which allows the states to share online poker traffic.
Once this got up and running, his instantly took Delaware poker and Delaware Park into the big time, and players playing online at Delaware Park now have access to the largest online poker network in the United States, called the Multi State Poker Network, or MSPN.
So players here have gone from just hoping that a table is running to having access to a whole lot more traffic, tables, and tournaments. While most of the traffic is being driven by Nevada players, that doesn't matter, and as expected, interest in Delaware as far as online poker goes is growing, now that they have a good place to play finally.
Delaware Park's Bonus Offer
All 3 online poker providers in Delaware offer access to the MSPN, which is the only network that serves Delaware right now, so the only real difference between them is the bonus offers really. A lot of players go with prestige here though, and Delaware Park is the most prestigious name in gambling in the state, so this has no doubt played a role in their being able to capture a large chunk of the online poker market here.
Delaware Park offers three levels of welcome bonuses for new depositing players. Deposit between $50 and $100 and you get $10 in bonus money. Deposit between $101 and $199 and they up the bonus money to $20. Start out with $200 or more and get their top bonus of $30.
These bonuses are instantly added to your bankroll by the way and therefore you don't have to play a certain amount for them to be available to you like is often the case with poker bonuses. You do need to play a certain amount to be able to withdraw the bonus money though, which only makes sense.
Other Reasons To Play At Delaware Park
There simply isn't anywhere else you can play online poker in Delaware right now besides at one of the three sites that are on the MSPN, so it's not like players will be comparing options here and looking for the one with the most traffic and game selection to suit their needs.
However, the MSPN does have the most traffic of any poker network in the United States, so this is definitely a good position to be in. It's not that the traffic here is enormous by any means, but it is certainly decent here.
For the purposes of comparison, this network boasts an average of 220 cash game players, and the next biggest network in the U.S., WSOP New Jersey, only has 170, at the time of this writing.
So this not only provides players in Delaware with a good selection of cash, sit and go, and tournament action, it also spreads out the peak periods where you don't just see action at prime time on the East Coast anymore. Nevada gamblers are known for their round the clock play and this applies to the online poker players there as well.
Delaware Park's online poker offer now brings together some pretty big names in the industry, and besides their own strong brand in the state, they are now aligned with Caesar's Entertainment, the World Series of Poker brand, and 888 Poker, who run the site and provide the software, which runs smoothly and is well liked by players.
888 has been involved in Delaware since the start and they also co own the network in Nevada as well, and are among the most experienced online gaming companies in the world, as well as one of the most successful. Their main international site is second only to Poker Stars in terms of overall popularity.
In terms of banking options, at Delaware Park you can transfer money in directly from your bank account, as well as make withdrawals directly to it. They also accept Visa credit and debit cards and MasterCard but these options are only available for deposits.
You have to be located in Delaware to play online poker at Delaware Park, and they do verify that you are indeed in the state.
Conclusion
So to sum up, Delaware poker has really taken off lately, and it is finally a viable place to play online poker, and very viable indeed now. Delaware Park is the option of choice for most players here, and it is certainly a well run and respected operation, although all three options here are licensed by the state so it's not that there is any risk in any of them, which sure is a big improvement over playing at offshore sites, and you can even use your credit card to deposit again now.
So this is a very good option for playing online poker in Delaware, and if you are looking to join the growing number of Delaware online poker players, Delaware Park is a good choice to be sure.
About the Author