BetOnline Poker
Bonus Offer:
100% up to $1000
Available Countries
Accepts US players
More Info
Available Games
Poker
Blackjack
Roulette
Live Dealer
Baccarat
Features
Great gaming library
Numerous tournaments
Hefty welcome bonus
Additional bonuses for crypto users
8

reviews found based on your search.
Clear all filters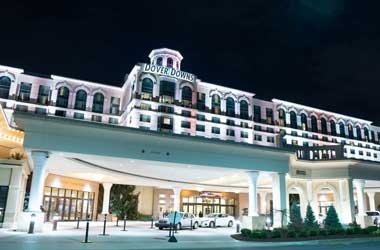 Dover Downs is a pretty big operation in Delaware, with over 2,300 slot machines, and a wide variety of table games including a live poker room with 12 tables, in addition to being a racetrack, which is where the name Downs comes from, which it was prior to also becoming the largest hotel casino in the state. There's even a speedway on location which hosts Nascar Sprint Cup races.
So when Delaware was looking to start offering online poker, it was only natural that the racinos in the state were given the privilege, as they already host all of the land based gambling here, and the state wanted to make sure that the online operations were given to the in state land based interests, as Nevada and New Jersey had done.
So Dover Downs and the other 2 racetrack casinos in the state, Delaware Park and Harrington Raceway, all have a stake in online poker here, although they all have combined to form a single online poker network, where they all share the same tables and players.
So these are also separate operations in terms of management and there are some differences between them in spite of all offering the same tables and games, but these differences aren't really significant..
The overall idea here is to allow different brands to compete for the business of Delaware's online poker market and this is supposed to drive more traffic in theory anyway, especially since each has their own clientele at their land based operations, and having them promote their online poker and gambling directly likely has a positive effect.
The biggest reason for this though is that the authorities wanted to spread around the opportunity here and even though this has the appearance of segregating the market into three online operations, it is very integrated when you go beyond the façade of branding.
The Struggle and The Solution
To say that the Delaware online poker market has struggled since its inception is even an understatement. The State of Delaware was pretty excited when they became the third state in the U.S. to legalize online poker and online gambling, along with Nevada and New Jersey before them.
So Nevada and New Jersey fell well short of initial projections, which were actually inflated, but that was probably a good thing since it did generate the kind of enthusiasm needed to get the support needed for it to get it up and running. Dollar signs were in the eyes of many people as far as the tax revenue this was supposed to generate for the state, and the disappointment hit hard, although both states did end up with a fairly thriving online poker market.
In Delaware though, the plane not only didn't fly as high as people expected, it never even got off the ground. Gross revenues for online poker in Delaware, across all 3 sites, initially peaked at a little over $100K per month but ended up settling in in the 20's and 30's. This is far from what people had in mind here.
There was never more than a few cash tables running here at any one time, and often they would be down to one or even none. New Jersey and Nevada were both taking in many times more revenue, Nevada on some months approached a million, and New Jersey almost 2 million. So these might be numbers the states aren't thrilled with but they are real numbers, unlike Delaware's.
So what ended up happening is that Nevada and Delaware ended up combining forces, leading to players in Delaware not only having access to other players on the Delaware network, but Nevada's as well. Nevada is down to just one poker site these days so this meant Delaware players could play against all of the players in Nevada on this new network.
This hasn't done a whole lot as far as expanding the online poker player base in Delaware, but it sure has been a boom for Delaware players, who have gone from virtually no action to a lot of action, and action is essential in making an online poker site work.
Playing Poker At Dover Downs
So once again, it doesn't really matter much which of the three Delaware online poker sites you end up choosing, as aside from things like promotions, they are all pretty much identical.
The bonuses and promotions are all pretty similar as well actually. Dover Downs gives new players $8 in instant bonus cash if their first deposit is between $30 and $69, $15 in bonus if they put in between $70 and $150, and $25 in free money for initial deposits over $150.
You can't just take this money and run though, they do require you to actually try out the poker site before you can withdraw this bonus cash, as would be expected, but that's what you're out to do anyway.
Some people think that because Delaware Park has the lion's share of the Delaware online poker traffic, this is a reason to prefer Delaware Park, but that's not the case at all. The top end of their welcome bonus is a little higher, $30, but you also have to put in more money to get it, over $200.
If you like bonus money that much there's nothing stopping you from trying out all three Delaware sites actually, and all three will pay you a little extra to do so.
Playing at Dover Downs or any of the three sites for that matter will get you access to the Multi-State Poker Network that the poker rooms in Delaware are now on, combining all of the traffic from Delaware with the WSOP Nevada site, and this is actually now the biggest online poker network in the United States, surpassing the biggest New Jersey site.
So there's plenty to choose from as far as cash games, sit and go's, and tournaments are concerned, and there is now action around the clock, not just at the peak times in the Eastern time zone.
The software for this network is provided by 888, which is a leader in both poker software and in online poker in general. 888 is a huge name in fact and online poker players in Delaware do enjoy a world class online poker experience with their software and the operation in general.
Conclusion
To be honest, it doesn't really matter much which Delaware online poker site you choose if you're in Delaware and are looking to play online poker, other than the fact that you have to choose at least one of them, and Dover Downs is as good as any.
Players do have to be physically located in Delaware, although you don't have to be a resident and can just be visiting the state, although I doubt many short term visitors are going to want to open an account here just to play for a short while, but you could do it.
You also need a cell phone which is text message capable so they can confirm that you are indeed located in Delaware.
Banking options here are the same across all three sites, you can deposit by way of a bank transfer, which you can use for withdrawals as well, and you can also deposit with a Visa credit or debit card or a MasterCard credit card, which can only be used to deposit.
So if you want to give online poker a try and are in Delaware, Dover Downs is ready and waiting to be your portal to all of the great action and fun that is out there.
About the Author