BetOnline Poker
Bonus Offer:
100% up to $1000
Available Countries
Accepts US players
More Info
Available Games
Poker
Blackjack
Roulette
Live Dealer
Baccarat
Features
Great gaming library
Numerous tournaments
Hefty welcome bonus
Additional bonuses for crypto users
8

reviews found based on your search.
Clear all filters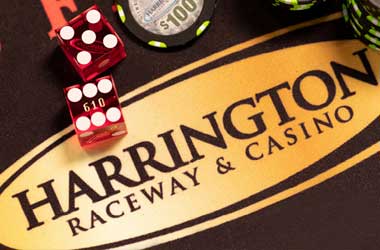 Harrington Raceway may be called a raceway but it's also a land based casino, and like the other two racetrack and casinos in the state, they also offer online gambling and online poker, as the state of Delaware has licensed all 3 establishments to provide online gambling to people in Delaware.
Delaware became the third state in the United States to license and regulate online poker back in 2015. While the other two states that have legal online poker are pretty famous for their gambling, particularly in Las Vegas in Nevada and Atlantic City in New Jersey, Delaware has taken a similarly progressive view towards gambling in recent years and have both land based casinos and legal sports betting, so it was quite natural for them to adopt the positive attitude towards online poker along with these other 2 states.
Delaware only has a population of about a million people though, which might seem like a lot to start up a fairly thriving online poker operation, but in actual fact this isn't a lot of people to do that anyway, and it takes a whole lot more people to really drive online poker, and even New Jersey, which has almost 10 times as many people, didn't exactly explode and while the operations here and in New Jersey have been successful enough to make them viable, this wasn't the case with Delaware, who struggled mightily to stay alive.
So the first thing they needed to do is have Harrington Raceway and the other two participants offering online poker in Delaware, Delaware Park and Dover Downs, combine forces into a single network, offering the same games and tables. However, that wasn't near enough to allow for any kind of real success, and the network floundered and actually became the brunt of a lot of jokes in the online poker world, things like Delaware poker is so small it's cute, and it was mighty small indeed, with the average number of cash players generally in the single digits, as in less than 10.
Proponents of online poker in the United States did overestimate the popularity of online poker to be sure, and they also underestimated the amount of interest needed in a state to achieve enough momentum to get it off the ground. This is a common problem with online poker startup operations generally, and if you don't achieve this momentum, then players who may otherwise play don't bother because there isn't enough action, which can often leave the poker room floundering.
Expanding The Player Pool
So this left online poker players at Harrington Raceway's site along with the other 2 Delaware sites stuck in the mud. When this all first began, it all got off to a very disappointing start to say the least, but that was the peak of things, and as the novelty wore off and players got to see that this didn't really have much action to start with, things just went downhill from there.
So to save online poker in Delaware, the state got together with Nevada and agreed to combine networks.
Nevada at this time was down to a single online poker room, after starting out with two and finding that the market was too small to support two, and Delaware's market was too small to support even one, and Nevada has said from the outset that they are open to expanding their online poker rooms to other states, and they had an eager partner here for sure.
So the governors of the two states got together and signed a pact, and the fact that state governors are involved personally lets you know how important this is seen, even in Delaware with their pitifully small online poker revenues at the time, but it's certainly a good thing to have this all taken very seriously and enthusiastically at the highest levels of state government.
As it turned out, both the Nevada site, WSOP, and the Delaware network shared the same software provider, 888 Poker, and with the WSOP how having all of the Nevada online poker traffic to themselves, this ended up working out seamlessly, and now players in Delaware have access to not only all of the Delaware market but all of the Nevada Poker market as well.
Playing Poker At Harrington Raceway
So together with the growth that the Nevada market has undergone, this ended up propelling the new Multi-State Poker Network to the top spot among online poker networks in the country, which is certainly welcome by Delaware players, as they can play on a real network now finally.
Since all three Delaware online poker sites offer the same tables, it doesn't matter which one you play at as far as the selection of games and tables, as they are all identical.
For whatever reason, Harrington Raceway hasn't had the same success as the other two operators in the state as far as attracting online poker players to their site, but this really doesn't make any difference. This is a lot like worrying about placing bets on horses at a racetrack versus at an offtrack betting site, where less people may bet at this particular offtrack site, but they are the same bets on the same races.
The only real difference between them is the initial deposit bonus, but even these are pretty similar. Harrington Raceway's initial deposit bonus is a little smaller than the other two, with a top bonus of $20, as opposed to Dover Downs' top bonus of $25, and Delaware Park's $30, but we're not talking about much money here at all, and if this matters that much to players, there's nothing stopping you from collecting them from all 3 actually.
Harrington Raceway's minimum deposit to collect a bonus is set at $10 though, and a deposit of between $10 and $49 earns players a $5 instant bonus, so you can deposit $10 and play with $15 right off the bat for instance. Dover Downs requires a $30 deposit or more to get a bonus, and Delaware Park's minimum is $50, so Harrington Raceway's bonus offer is certainly targeted more toward smaller deposits and rewards these players as well.
Additionally, at Harrington Raceway, if you deposit between $50 and $199, you get $10 free, and first deposits of $200 or more earn the maximum instant bonus of $20.
As is the case with all Delaware online poker sites, deposits can be made by bank transfer, Visa credit or debit, and MasterCard, and withdrawals can only be made by bank transfer. This is a far cry from the difficulties people have with depositing and withdrawing to and from illegal offshore poker sites, and makes depositing and withdrawing incredibly easy.
Conclusion
Harrington Raceway online poker has hit the big time, or at least a lot bigger time than it used to be in, now that it is on the Multi State Poker Network. There's all kinds of action now, at a good variety of stakes, and this includes plenty of action across all 3 major forms of online poker, cash games, sit and go tournaments, and larger scheduled tournaments.
The software and the quality of the online poker operation is also first rate, being provided and run by 888, a true leader in online poker and online gambling. Somehow, they managed to end up with some great online poker in this state, even though the road there was not an easy one.
If you're going to play online poker in Delaware, you actually have to be physically located in Delaware, which they do verify through your cell phone. It's then just a matter of choosing which of the three online poker sites in Delaware you want to play at, and frankly it doesn't make much of a difference.
So if you'd like to try out Harrington Raceway's online poker site, well these are all very good choices, and there's no real reason, other than some slight differences in bonus money, to play at one of the other two sites instead. If you are a smaller depositor though, Harrington Raceway is a better choice.
About the Author