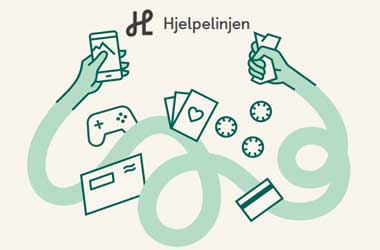 Summary:
Blå Kors was appointed by Lottstift to operate the gambling helpline from January 1, 2024
The organization helps and supports Norwegian gambling addicts
Blå Kors will also offer a remote treatment service from November 1, 2023
Norway's gambling regulator Lottstift has announced that Blå Kors (Blue Cross) will handle the operations of the country's gambling helpline, Hjelpelinjen, starting next year.
The non-profit organization, which is focused on providing addiction support services, will take charge of the helpline from January 1, 2024, taking over the role from the Norwegian health trust, Sykehuset Innlandet.
Blå Kors to Operate Hjelpelinjen
Hjelpelinjen was established in 2003 and has since received nearly 22,000 calls from people affected by gambling. In 2022, it recorded 825 inquiries, an increase of 15% from 2020. 
Lottstift recognizes the importance of such a service in the country's fight against gambling harms, and the regulator is confident Blå Kors can carry out its new role effectively and efficiently, given its proven experience and background in addiction prevention, treatment, and support.
The group owns and operates over 50 entities across major parts of Norway, including treatment institutions, housing centers, local foundations, outpatient services, and services for children and young people. It delivers its services through its network of nearly 1,700 skilled employees, 2,400 active members, and 1,500 dedicated volunteers throughout the country.
Blå Kors is already offering support and treatment services for people struggling with gambling addiction which is as important as knowing what to do when you first start playing poker online and it is now expanding its work by taking over the gambling helpline which will continue to run as a nationwide, free, anonymous help service for those dealing with gambling problems. It will be operated by the newly established "Blue Cross Gambling Addiction" service.
Blå Kors said its goal is to help people overcome addiction by connecting them to specialist healthcare services, support organizations, and institutions that provide debt advice and legal assistance.
Remote Treatment to Begin on November 1
Additionally, Blå Kors will also set up a remote treatment for gambling addicts whereby patients will undergo a free three-month treatment program involving written assignments and phone conversations. This particular service is targeted at people aged over 18 experiencing problems with gambling. Blå Kors will begin offering the service on November 1.
Welcoming the appointment of Blå Kors as the new operator of Norway's gambling helpline, Lars Petter Degnepoll, Senior Health Advisor of Lottstift, said the organization is "well-equipped" for its new task as it has extensive experience in that area.
According to the National Centre for Gambling Research, 23,000 Norwegians deal with serious gambling addiction. A further 93,000 are at risk of developing addiction and other gambling problems.
About the Author