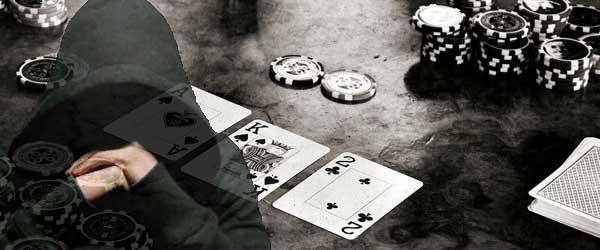 It's hard to pick the best poker players in the world, especially when you strive to mention all pros who appeared on the scene since poker rose to prominence. Since there is an abundance of truly great players with magnificent skills, we have decided to consider a few criteria when creating this list. We'll look at the players that made poker what it is today and assess their longevity, major titles, and more.
So, without much ado, let's dive right into the top 10 list of the best poker players of all time.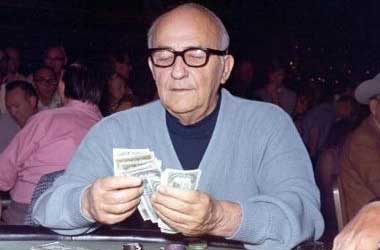 Johnny Moss — Grand Old Man of Poker
Origin: Texas, USA
WSOP Money Finishes: 25
Bracelets: 9
It takes a lot to earn the title of the grandfather of poker, and no one knows that better than Johnny Moss. He appeared in the very first rendition of WSOP with only six other players at the main table and emerged as the first-ever winner of the Main Event in 1970. He triumphed two more times the following year and again in 1974.
Moss finished his professional career with over $1.25 million in tournament winnings. However, it's impossible to talk about his total cash winnings from playing poker as Moss was a Texas road gambler, and the rules were a bit different in his time than they are today. His success in the poker world got him inducted into the Poker Hall of Fame in 1979.
His competitors know him as an aggressive player and a fierce competitor. Moss passed away in 1995.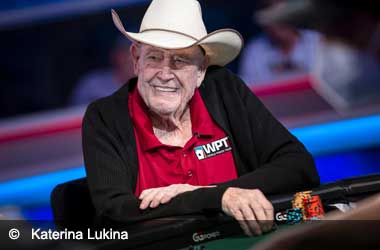 Doyle Brunson — Texas Dolly
Origin: Texas, USA
WSOP Money Finishes: 37
Bracelets: 10
Another Texas native who competed at the same time as Moss, Doyle Brunson, stands for one of the oldest poker pros to have played at huge events. He won two consecutive WSOP Main Events in 1976 and '77, making him one of three players to do so and one of four players to win multiple times.
Brunson's love for the game is evident as he is the oldest poker player to have won a WPT event (Legends of Poker) in 2004 at 71 years of age. He played his last professional hand in 2018 at 84, showcasing his passion for the game.
He has won over $6 million in tournaments and probably close to that in cash game winnings in Texas and Las Vegas. The Texas Dolly is perhaps among the most recognizable faces in the world of poker.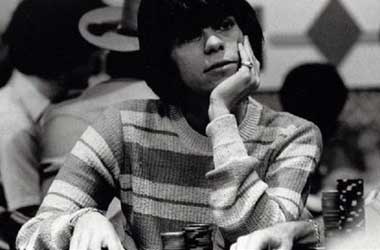 Stu Ungar — The Comeback Kid
Origin: New York, USA
WSOP Money Finishes: 15
Bracelets: 5
Stu Ungar was one of the most talented natural poker players, but unfortunately, he struggled with personal demons. He claimed the WSOP Main Event title two years in a row, 1980 and 1981, even beating Brunson at the final table once. His talent for the game persisted, leading him to another win in 1997.
Interestingly, he started as a rummy player but later switched to poker, showcasing his talent for other card games as well. He won more than $3.7 million in poker tournaments and got his name in the Poker Hall of Fame in 2001. Many remember him as a ruthless player with a sixth sense for card games, which earned him a spot on our list.
He passed away in 1998 due to heart problems caused by substance abuse.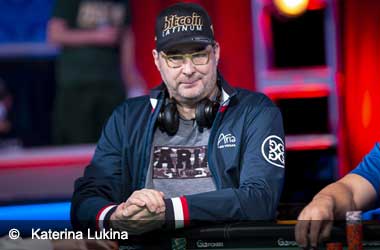 Phil Hellmuth — The Poker Brat
Origin: Wisconsin, USA
WSOP Money Finishes: 186
Bracelets: 16
You might wonder how a poker pro with such a status deserved the title of a poker brat. Well, Phil Hellmuth is known for his overactions and bad table manners in the poker world, but that hasn't stopped him from accumulating over $26 million in tournament winnings.
Hellmuth is the only tour professional to have won a WSOP Main Event in Las Vegas (1989) and Europe (2012). His achievements in the poker world earned him a spot in the Poker Hall of Fame in 2007, and many consider him the best poker player of his time.
He is still active in the industry, eyeing a WPT title. Hellmuth made five final tables at the WPT and accumulated over $26 million in earnings over the years. He almost won his 17th bracelet in July 2022 at the WSOP but finished second.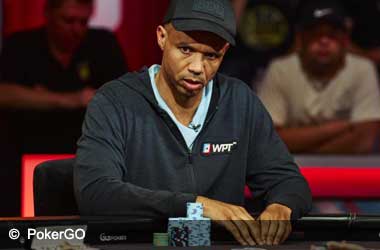 Phil Ivey — No Home Jerome
Origin: California, USA
WSOP Money Finishes: 59
Bracelets: 10
Phil Ivey's love for the game goes back to his teenage years when he earned his nickname from a fake ID he used to enter poker rooms. Many considered him the best all-around poker player in the world as his talents go far and wide.
Playing poker from such a young age, it was no surprise when Ivey won his first tournament at 21 and then his first WSOP bracelet at 23. At the beginning of the new millennium, Ivey was the one to look out for on the scene.
He debuted at the WPT in 2003 and immediately found success, winning his only title in 2008. He cashed out nine out of the 12 times he participated.
Ivey earned his spot at the Poker Hall of Fame in 2017, but we are sure there's much more he'll bring to the industry in the future.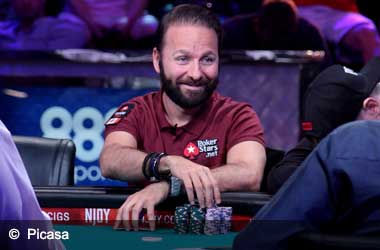 Daniel Negreanu — Kid Poker
Origin: Ontario, Canada
WSOP Money Finishes: 148
Bracelets: 6
The first non-American to make our list is a friendly neighbor, Canadian Daniel Negreanu. With more than two decades in the industry, Negreanu has earned his place on this list. He was named the top poker player of the decade in 2014 by Global Poker Index. He is also the only player to receive the WSOP Player of the Year accolade twice, in 2004 and 2013.
There's more — he is the first poker player to make the final table at three bracelet-awarding WSOP locations in Las Vegas, Europe, and Asia. Negreanu is the third-highest poker winner in live tournaments, with over $42 million in prize money.
Negreanu is another poker player on our list to be inducted into the Poker Hall of Fame (2014).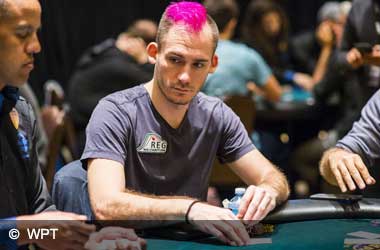 Justin Bonomo — ZeeJustin
Origin: Virginia, USA
WSOP Money Finishes: 55
Bracelets: 3
Justin Bonomo is a powerful force in the modern poker industry and the highest-earning live tournament player of all time, with over $57.2 million. He got his first bracelet in 2014 and the next two in 2018. His most notable win is the $1 Million Big One for One Drop at the WSOP for $10 Million.
Bonomo is still a young player, and we expect his poker dominance to continue in the future. He has become almost unbeatable, winning 18 major tournaments since 2016 and grabbing a seat at many final tables.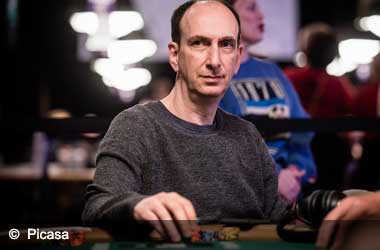 Erik Seidel — Sly
Origin: New York, USA
WSOP Money Finishes: 114
Bracelets: 9
Erik Seidel dominated the poker scene for years before the poker boom ushered in the modern poker industry we know today. His career began in the famous Mayfair Club in NYC, which later inspired the movie Rounders. Seidel's final hand at the 1988 WSOP Main Event appeared in the movie.
He won his first bracelet in 1992 but also continued to dominate major tournaments in the 21st century. He has titles from all major events, including WSOP bracelets, a WPT title, and a European Poker Tour win. The poker pro still appears in high-roller events across the world.
Seidel was featured in best-selling author Maria Konnikova's book The Biggest Bluff as he served as the author's poker coach.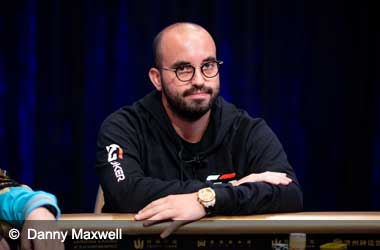 Bryn Kenney — Lone Wolf
Origin: New York, USA
WSOP Money Finishes: 32
Bracelets: 1
Bryn Kenney, who nicknamed himself the Lone Wolf of the poker world, is a young professional player with a bright future. He joined his first tournament in 2007 and won his first six-figure event three years later. In only a few short years, he earned more than $56 million in live tournament earnings.
Although he has only one WSOP bracelet, Kenney has already proved himself a high roller as he's a regular at the Aria high-roller scene. His skills speak for themselves, so we can only expect more accolades from him.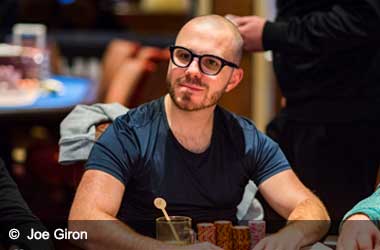 Dan Smith — Cowboy Dan
Origin: New Jersey, USA
WSOP Money Finishes: 23
Bracelets: 1
We'll finish this list with another young player, Dan Smith, who gained his nickname because of his big white cowboy hat. Smith dropped out of college in 2007 to pursue a professional poker career, and his first big win came only a year later.
He has over $38 million in live poker tournament wins, so that move paid off in spades. Not only does he have a WSOP bracelet, but he also has a WPT title and an Aussie Millions championship to his name.
Smith is also quite charitable, creating the Double Up Drive organization that urges other poker players to donate to those in need.
About the Author